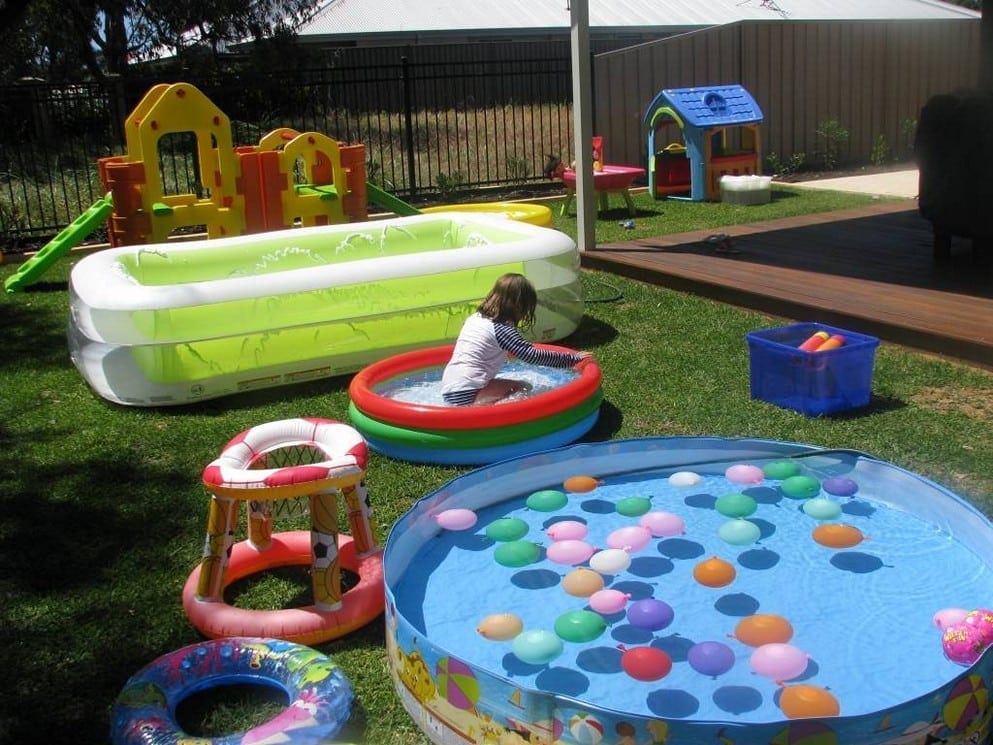 Get wet 
In the summer, intense heat and humidity routinely keep people from the backyard good times they could be having. Don't let the threat of melting stop you from having fun out there. Hook up a sprinkler, fill up a kiddie pool, toss around some water balloons. With just a little bit of cash you can transform any outdoor space into your own personal waterpark.
Host a cookout
 A cookout is the ultimate backyard event, invite over friends & family for a backyard BBQ.
Start a garden 
Some of my fondest early memories are helping my mom plant seeds with anticipation of what would come to grow. Make a day of it, take a trip to home depot and let the kids pick a few seedling packets. Make sure you have enough gardening tools so everyone can have fun.
 Swingers 
Swinging in the breeze on a nice day can provide maximum backyard enjoyment for both kids and adults. Find the perfect tree and string one up or get a free-standing swing and find the perfect spot.

Slip N Slide
This is fun and very easy way to liven up a summer day. Get a long tarp and place it on the lawn , down a slight hill to allow gravity to help control the water direction. Place a hose on the tarp.  Instant water slide in your backyard. This activity will not only entertain the kids, it will water the lawn.
Activities
If your yard has enough space to run around in, then what are you waiting for? Get a basketball hoop. Throw a frisbee around. Play some badminton. Use your space for some sort of fun physical activity.
Bird is the word
Not only are birds beautiful, they also provide public service to your backyard ecosystem. They can help manage insects, rodents, and species like the hummingbird can even help pollinate flowers. Do our feathered friends a solid and install a bird feeder or bird bath in your backyard to make them feel welcome.
Lawn Twister
Create a fun game of twister on your lawn! Perfect for birthday parties when you don't want little ones crashing into your living room furniture. Get a circle cut out (you can find one at a local craft store) or make your own by cutting out a piece of cardboard. Spray 6 large dots on the lawn in one color, repeat with each spray paint can until there are 4 rows of 6 dots. Make your own spin board or draw directions out of a hat. Your kids will love helping create the game as much as playing it! And, the good thing is easy cleanup ,after a few times mowing the lawn, the twister game will be gone.